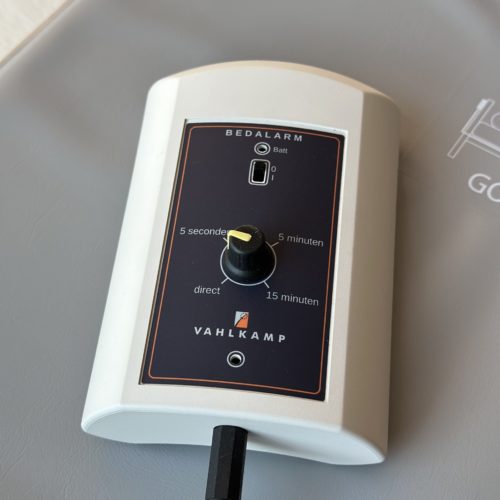 The bedalarm ensures a good night's sleep with a sense of security. The product has been developed by Vahlkamp to be able to keep an extra eye on patients who cannot leave their beds without help. This alarm is particularly user-friendly and reliable.
The unrestdetector remarks troubled sounds such as screaming and shouting and reports this on the (existing) calling system. This way you can see from which room or space the message originates. Often it finds its application in psychiatry and disabled care but also in psychogeriatrics.
Vahlkamp developed the chair alarm to check on clients who cannot stand up from a chair by themselves. The mat is put on a chair and detects when the weight comes of the mat.
Do you ever find yourself unable to hear the phone or doorbell ringing, especially if you are not in the immediate vicinity of the signal? A "Wake-up and Warning System" makes acoustic signals visible through flashes of light or felt in the form of vibration impulses.
With the push of a button on the wrist transmitter you can activate the telephone, which then dials three pre-programmed numbers one after the other. If the called party confirms the call by pressing the "5" key, you can speak via the integrated hands-free system.
Request products
Our customers often want to search for themselves, try them out, make choices and therefore convince themselves. With some products it has already become normal to try out before buying e.g. test drive by car. Lot of electronic aplliances businesses give a guarantee on the free use of the product for 1 month.